Easy Denture: Affordable Dentures Without a Trip to the Dentist
At home self-fit, simple
one-step process.
Patent-pending design.



The dentures were a nicer quality than I expected. The gum line is a bit larger so I had to modify it using hot water. However it was very easy to do. I would highly recommend purchasing!

- Grace



Best product I've purchased. easy fitting compared to many diy kits I've tried. looks good n fits much better. go for it you'll be happy

- Jim



Awesome customer service! Much appreciated.

- Sarah



Excellent quality and easy-to-use. Very realistic.

- Michele



I am so happy with my Easy Denture... The instructions were easy to follow.  I was able to mold the dentures to fit perfectly in my mouth.  I highly recommend purchasing Easy Dentures.

- Debora



When in the mouth with saliva, the teeth look very natural. Very happy."

- Tom I.



"The best diy dentures on the Internet. By far."

- Rocky G.



"Expect to put a little time into adjusting the denture in your mouth, but with patience, the fit is great."

- Susan B
Revolutionizing the Denture
Boil & Bite, Immediate Denture
Customize and refit up to 20x times
No impressions needed
Backup, temporary, or long-term solution
2020 Gold Edison of the Year Award – for Top Dental Innovation
Watch Now: Easy Denture Self-Fitting Video
"Easy to use, easy to fit, good quality, and they look amazing! I'm currently undergoing getting dentures, and it is a long process of waiting which I did not realize you can sometimes wait months before actual fitting...


I can now smile again and don't have to hide!"
- Deena P.

Order Easy Denture online
Denture arrives: Read directions and watch the instructional video
Unpackage and Boil the denture for 60 seconds
Remove and let it cool for 60 seconds
Place in your mouth and mold it around your gums for 180 seconds
Remove from your mouth prior to it fully hardening/curing
Let the product cool to room temperature – it's now ready to be used
During the self-fitting process, most customers reboil/remold 2-3 times to achieve a comfortable fit – you can reboil up to 20 times.
Easy Denture: $239
An Immediate denture solution.
Traditional Denture
Process
First trip to the dentist to get molds made
Molds are sent to a lab for casting
Molds sent back to the dentist
Second trip to the dentist for custom fitting
Denture is sent back to the lab for alterations
Refined denture is sent back to the dentist
Third trip to the dentist for final fitting and delivery
Patients may spend 8+ hours in a dental office and often wait weeks to receive their dentures.
Average Cost: $1,500+
Traditional dentures cost between $800-5,000 and take up to 12 weeks.
Order Online and Self-fit at Home
We make it easy and affordable to have a great smile and comfortable fit without a trip to the dentist.
What's in the Box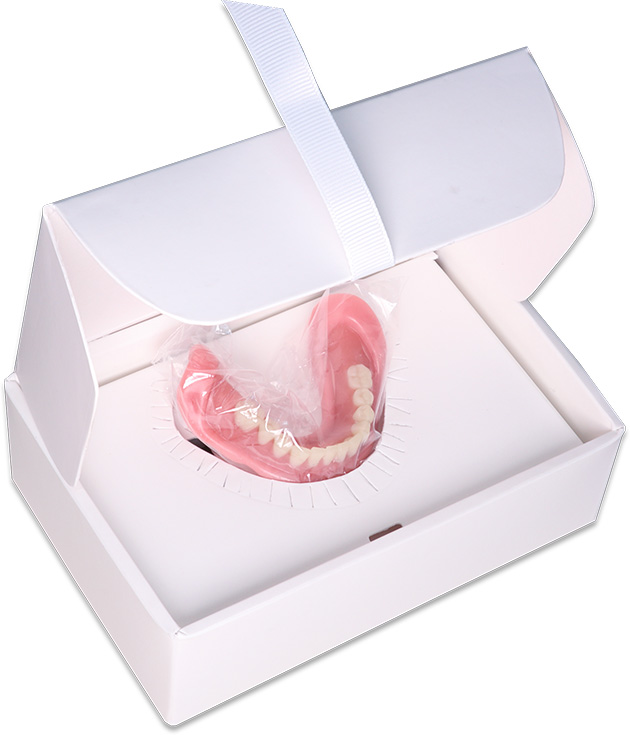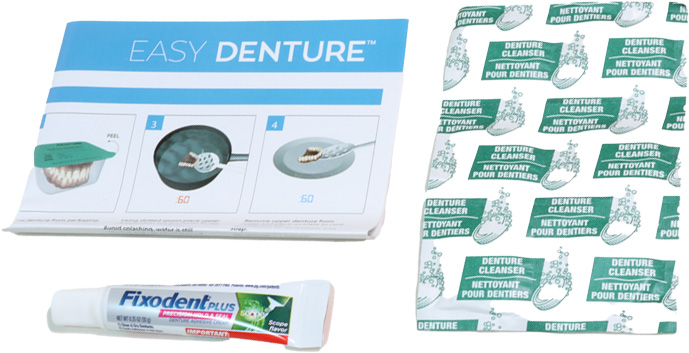 Easy Denture (Upper/Maxillary or Lower/Mandibular)
Adhesive Cream
Cleaning tablets
Polishing Paper
Instruction guide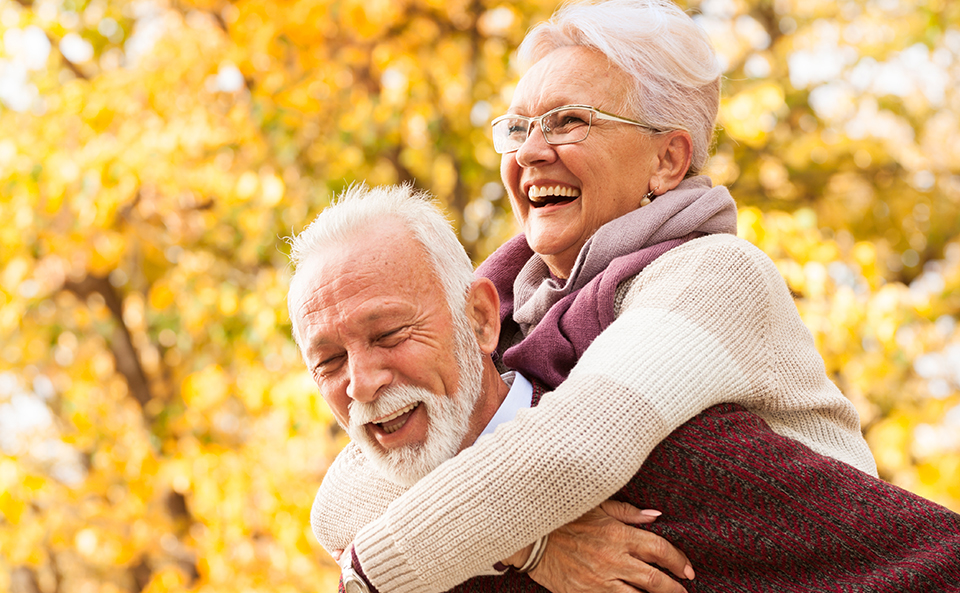 The Gift of a Smile Has Never Been Easier!
Everyone should be able to confidently chew, eat healthy foods, laugh, and smile.